Class Completion Certificate     
An Au Pair and others needing verification of hours completed in TELOS classes can, upon completion (and 75%+) attendance, request a certificate of completion that will reflect the course hours.  These non-credit hours will be on a Bellevue College Transcript.
To request a Certificate of Completion for a TELOS course, please visit the front desk. They will be able to assist you with filling out any necessary paperwork and issuing the certificate. Please note that a certificate cannot be issued until after the final session of the class has been completed.
Unofficial Transcripts
There are several ways to get an unofficial transcript of the TELOS courses you have taken.
1)  On the Bellevue College Grades and Records page (pictured below) .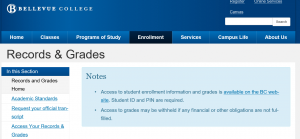 You can reach this page by clicking on Home below.
Then you can scroll down to the bottom of the page and request an unofficial transcript which you can view immediately.


The transcript can be copied and pasted, then printed.
When requesting the unofficial transcript, you will be asked for your Student ID (obtainable from your registration receipts), along with a password which is based on your birth date. Your PIN is your five or six-digit birth date by default. For example, if your date of birth is March 2nd 1990, your PIN would be 30290. However, if your date of birth is December 1st 1990, your PIN would be 120190.
2) You can also obtain a course listing in one of two ways by using the account you set up to register online.  

Click on My Account in the upper right hand section, and you will see the Account Overview.  

In the box on the right you can click on Class List and you will get a list which can be organized by date, instructor, course title and a few other options.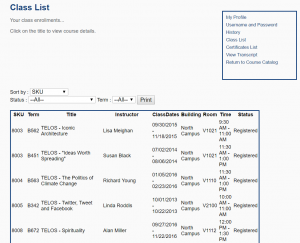 Or you can click on View Transcript and see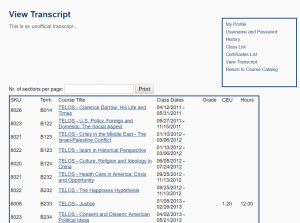 Both of these options (Class List and View Transcript) allow you to print.