You do not need to register to attend any event. You only need to register to receive a prize/kit. You must be a current Bellevue College Student and attend the event associated with the prize/kit.
Since last year in Bellevue College we celebrate Latino Heritage Month – during the whole month of October – and not only National Hispanic Heritage Month (Sep. 15 – Oct. 15). This choice is made for two reasons: (i) BC's academic calendar; and, (ii) Latino is more inclusive than Hispanic.
We have prepared many events to discuss political representation, Latino entrepreneurship, fight for social and workers rights, access to education, and much more.
None of this would have been possible without the amazing staff that supports and inspires us at the Office of Student Engagement. Carrie, Nora, Tess, and Hristo, your kindness and encouragement motivates us all to excel. A special thank you to Juan Esparza, Ithzel Moreno, Maria Paula McPherson, Eva Juarez, Ramon Concepcion, Henry Amaya, LaMeshia Reese-Taylor who went above and beyond. We would also like to acknowledge and praise the many hours that students Dmitrii Fisenko, Daniel (DucMinh) Lee, Nada Donzelli, Ezgi Ayaz wholeheartedly invested helping make this event possible. Finally, we also want to thank the Entrepreneurship and Personal Development; Latin American Culture Club, Brazilian Student Organization, International Education, and the Business Leadership Community.
Latino Heritage Month
Every WEDNESDAY of October, at 1:00 pm a different Speaker.
Every THURSDAY of October, at 12:30 PM a Cultural Lunch were students will have the opportunity to learn a typical Latino dish.
Point of clarification: Latino was intentionally used in lieu of LatinX. In Spanish and Portuguese Latino is already a gender inclusive word. If you have any questions on this matter, please contact latinxstudents-ac@bellevuecollege.edu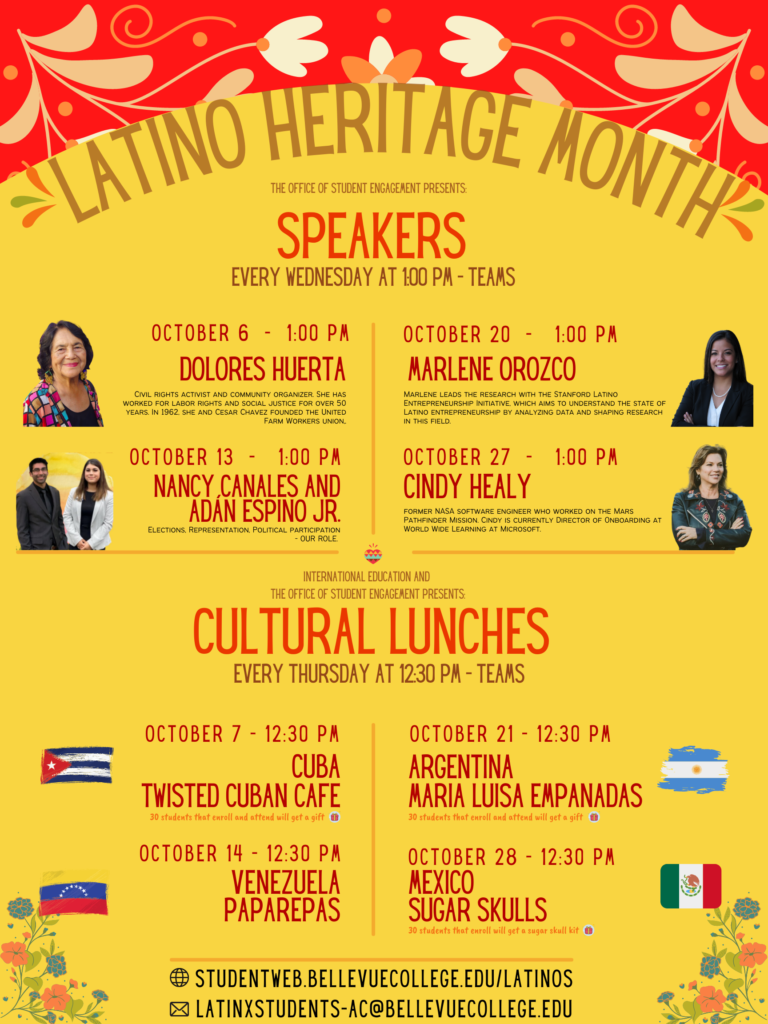 About the Latino Students Program at the Office of Student Engagement:
Mission:
To share the Latin culture while welcoming different global values with the students and community that surround us.
We aim to be a vibrant support of the Bellevue College community through our open, fun, and caring environment.
As a group we ambition to further expand the knowledge of the Latin American culture and therefore enrich other communities.
Also, to extend our full support to the Latin American society, as well as advocate, organize, and participate in any events that conjoin and strengthen our community.
Vision:
To introduce the best of the Latin Culture in an inviting and friendly way. To support our members in realizing their goals at Bellevue College.
To empower the Latin community, and to inspire not only themselves but other communities as well to strongly advocate equality.
Statement of Support: We are in full support of the Latino and non-Latino immigrant community as they organize, participate, advocate, and petition the United States congress to pass an immigration reform that is inclusive, non-discriminatory, and with justice for all.
Visit in Person every Monday from 9:00 am until 12:30 pm – C building Lobby.
Email: latinxstudents-ac@bellevuecollege.edu
Phone: (425) 564-6150 (considering that the Office of Student Engagement is working virtually due to COVID-19, the best way to contact us is by email: latinxstudents-ac@bellevuecollege.edu or through social media).